TV Repairs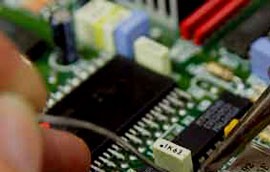 We repair all make and models of plasma TVs, LCDs, Widescreen, conventional (4:3 square) and rear projection TVs from the simplest of faults to the most unusual and complicated faults. We collect from your home, place of work or office free of charge were once our drivers have brought the TV back into the repair workshop it will be checked, inspected and diagnosed free of charge. At this point once we have established the cost of repair to the TV we will call you with your FREE NO OBLIGATION QUOTATION so you can advise us of what you would like us to do.
All completed repair work will have an invoice and a guaranteed for 12 months unless other wise stated, your TV will be delivered back and set up as we found it free of charge weather you choose to have any work carried out or not!
Our engineers will always advise you weather we feel that the repair is worth carrying out or weather you are better suited buying a new TV.
Installations and Tuning
Modern TV sets are feature rich but can be very complicated to set up out of the box. With our Installation and tuning service one of our engineers will come to your home and set your TV up and explain all the different features so you can get the most out of your new TV. Our engineers can also wall mount your new slick, slime line TV for you.
Accessories
We can supply you with a range of accessories for your AV equipment. Everything from cables to connect your various peripheral devices to wall brackets to enable you to place your TV exactly where you want it, and in a safe secure manor. For a up to date price & availability on any accessories you may require please call a member of our sales staff.
Sales
If you need to buy new equipment we offer a professional advice driven sales service. Tell us what you want and we will be only to pleased to help.